---
Another happy client..!!!
We are proud to announce that we have completed with success Al Dawaa Distribution Center Superflat Floors and we would like to thank Youssef Maroon Contracting Company as the main contractor and Industrial Buildings & Logistics Solutions (IB & LS) as the Consultant of the project for the trust in our company.
A few words for the project...
Al Dawaa Pharmaceutical Company is one of the leading pharmaceutical companies with a network of over 800 outlets (pharmacies) all over the Kingdom of Saudi Arabia.

In order to cover the increasing demand in Logistics infrastructure (both in volume and higher service standards) Al-Dawaa decided to proceed with a new state-of-the-art warehousing facility in Riyadh - 35.000 m2, Chilled - Frozen - Temp. Controlled Warehouses, Use of Material Handling Automation Systems.
Osis Group was selected as the Concrete Flooring Specialist, having total responsibility for the design and construction of the floors that were constructed as per TR 34 4th Edition Standards.
The racking of the storage areas are above 13 meters height and both Free Movement and Defined Movement (VNA).
For this reason the selected specification is DM1 for the Defined Movement

and FM1 for the Free Movement Area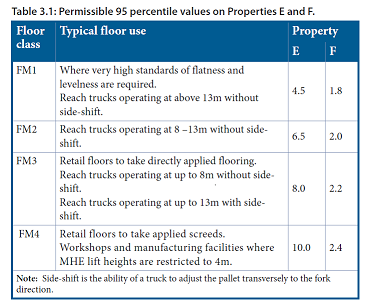 Al Dawaa Distribution Center is expected to be fully operational beginning of September of 2018.